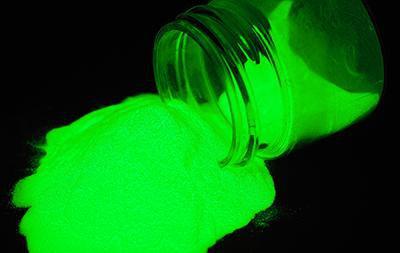 GLO Effex Strontium Aluminate based glow in the dark powder also called glow pigment or super phosphorescent powder is a new type of environmentally friendly alkaline earth aluminate pigment that is non-toxic and non-radioactive. The pigment particles are charged by most any visible light or ultraviolet light. The pigments then release energy in the form of visible light for 10 to as much as 24 hours. These pigments provide a duty-cycle operation with a very high ratio of glow time to charging time required. The glow intensity and after-glow time are over 30 times greater than traditional zinc sulfide or other commonly sold retail store products that you see.
The basic structure of the particle is crystalline, which has a tremendous capacity of absorbing, storing, and emitting light. The crystals absorb any ambient light, including regular indoor light. This provides incredible potential in safety, novelty, and industrial applications.

Basic Guidelines For Using the Super Phosphorescent Pigment.

More powder, higher percentage will produce brighter, longer glow.
Use a white, or light color as a background for best results. Any color other than white will diminish glow.
Use the clearest vehicle possible. Any pigment in the vehicle will decrease the brightness and length of glow.
The thicker (to a point) the layer of Super Phosphorescent Pigment will produce longer and brighter luminosity.
Try to prevent moisture in the manufacturing process.
Do not use vehicle with high acidity.
Do not grind the Super Phosphorescent Pigment, it will destroy the crystal structure and therefore decrease luminosity.

Ratio of Super Phosphorescent Pigment to medium is from 10% to 50% by weight depending on application.

Two of the most frequently asked questions in regards to Glow Powder are:

What can I do with it?

The problem is that you can do almost anything with it. You can mix it into a plethora of mediums such as nail acrylic, wax, paint, caulking, ceramic glaze, plastics, glue, epoxy etc. It has numerous industrial applications for safety and fun for home use in arts and crafts. It is the all purpose Super Phosphorescent Pigment in its truest sense. Our clients are using it in everything from mixing in acrylic for glow in the dark nails, making candles, screen printing shirts, outside landscaping structures, rocks, paster, grout, and of course making glow in the dark paint, glue or epoxy.

How much powder does it take?

This universal question has one answer. It is up to you. The amount of powder to medium will depend on how much glow desired, cost effectiveness, type of application method etc.
The Basic Guidelines dictate from 10% to 50% by weight. If you are producing a low cost item, then a lower percentage would work best for you. If you are screen printing shirts and want to make only one pass, a higher percentage would work better.
Examples:
1 oz. Powder to 4 oz. Medium
1 oz. Powder to 3 oz. Medium
1 oz. Powder to 2 oz. Medium
16 oz. (1 lb.) Powder to 1 qt. (32 fl. oz.) Medium
4 lbs. (64 oz.) Powder to 1 gallon (128 fl. oz.) Medium
Generally, the higher the ratio of glow in the dark powder to medium, the brighter the glow and potentially a longer glow. Please also consider the color of the surface to which the medium is going to be applied. Experimentation will be the best method of determining ratios after following the guidelines.                                            
Additional Information:
Encapsulated vs. Not Encapsulated - All GLO Effex powders are encapsulated. Encapsulated glow in the dark powders have a protective coating over the powder particle that makes it waterproof, while the non-encapsulated powders do not have the protective coating. Encapsulated = WATERPROOF vs. Not Encapsulated = NOT WATERPROOF.
{"one"=>"{{ count }} comment", "other"=>"{{ count }} comments"}